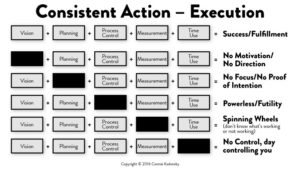 Without a strong emotional connection to the why behind what we are doing, very rarely will we persist through Sales Call Reluctance.  Creating a vision that magnetizes salespeople beyond their fear is key to profitable prospecting.  We must have something that is stronger to which we can anchor our attention.
Without an effective plan that clarifies and focuses on high-valued activities, roller coaster activity is scarey for the bank account and disheartening to our spouses and families.
Without process control that consists of a set of tools and events that aligns our daily actions with the critical actions in our plan, there is no assurance of consistent money-making activities.
We cannot manage what we do not measure.  Whatever we measure improves.  All star performers measure everything because it is the anchor to reality.  Are you courageous enough to measure your high-valued activities?
Everything happens in the context of time.  Do you have the self-control and self-discipline to make wise decisions on how you spend your time?  Time-management is self-management.
If you want to truly get a strategy and structure in place for Profitable Prospecting in 2017, check out https://www.exceptionalsales.com/ that will ensure and guarantee your success!